Our Story
Sleeves that Slay All Day
Heart Up My Sleeves is a homegrown luxury fashion label that curates transformable clothing with minimalism and sustainability at the core. Our statement sleeves raise your glam quotient, and our accessories are what you can call 'Your Everyday Must-Haves.'
Fashion moves quickly, and it's easy to have a lot of clothes. The hard part is making sure what you wear remains unique- without denting your budget or leaving you with a cluttered wardrobe. Heart Up My Sleeves is here to keep your outfits fresh and memorable with our detachable statement sleeves and more accessories.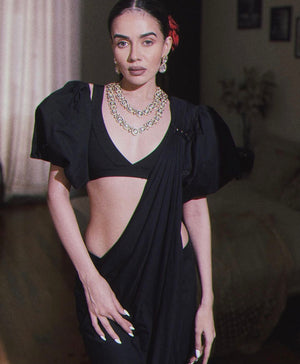 SLEEVES THAT ARE HERE TO STAY
A sustainable lifestyle is important, and fashion is a key part of it. Our focus has been on merging sustainable plus ethical fashion with something fresh- in the form of our detachable sleeves.
Our sleeves and accessories can go with everything in your collection and guarantee that your outfits remain new. You can re-wear and reuse them in different styles, without repeating your look and outfit.
We offer you a range of never-seen-before styling assets that open up a whole new highway towards your fashion goals.

Heart Up My Sleeves offers a quick fix to any dull outfit with its detachable sleeves and accessories. From sequins to frill and balloon to flair, you can find sleeves in every size, fabric, and colour for a holistic and wholesome choice. We blend simplicity and luxury. Kiss goodbye to repetition. Welcome versatile, handcrafted accessories with a warm hug. We cater to you with a supreme quality of products.

Each cloth is handpicked and every design is born while considering diversity in body types out there. Our products can transform your outfit, make it go from day to night. Our carefully curated designs can go with everything in your wardrobe, from Indian wear to Western wear.

Conquer your fashion landscape- our detachable statement sleeves and accessories.
SLEEVES SO CRAY
Our accessories raise the glam quotient of your wardrobe. But hey, that's not all. Heart Up My Sleeves carries sustainability, reusability, and minimalism as its brand foundations.
Our home-grown label diverts from the rules of fast fashion, drawing from our Indian household culture where sustainability and eco-friendliness have always been important.
Trends can be expensive and exhausting. With our products, you can make the most out of every piece of clothing you own. And still walk into a room looking unique each time

Bye-Bye, Boring Outfits. Hello, Expressive You.